Mary-Martha Guild & Lutheran Women's Missionary League LWML
Belinda Freer
President, Mary-Martha Guild
The Mary-Martha Guild was first organized in September, 1963 and over the years has continued to serve Christ Lutheran Church , the Lutheran Church- Missouri Synod and the community. The Guild is also affiliated with LWML. 
The ladies are available to serve at funeral luncheons, luncheons for Circuit Pastoral meetings and helping with other events when needed.  Many beautiful quilts have been made and distributed to very needy charities and causes including missions, needy families, and homeless shelters.
The Guild has been a very active part of Christ Lutheran Church for over fifty years and hopes to continue the work our Lord has asked us to do.  We are always thankful  for new members and encourage more ladies to join us.
Contact Belinda Freer, President, at mary-marthapres@clclakeland.org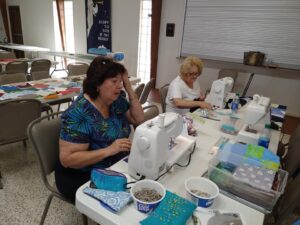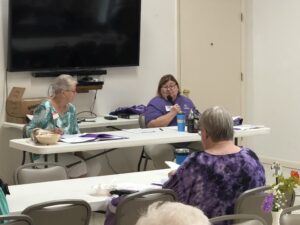 CLC LUTHERAN WOMEN'S MISSIONARY LEAGUE (LWML)
Winter Haven Zone LWML Rally
The Winter Haven Zone LWML Rally was held here at Christ on Saturday, April 10. We opened with a Holy Communion service led by Pastor Shouse, our Zone Counselor, and Christ's Pastor Hazzard. Our theme for the day was "but thanks be to God , who gives us the victory through our Lord Jesus Christ" I Corinthians 15:57.   We collected items for comfort kits for One More Child and then put them together at the Rally.  Our speaker, Stephanie Dow, shared with us examples of sex and labor trafficking that happen in our own area. One More Child seeks to meet the needs of safety, food, clothing,  health care,  counseling,  etc.   The  kits  we  made will help new arrivals. We made 58 complete kits and  39 partial kits for One More Child. We also had eight large tote bags and boxes for Talbot House.
President Joyce Munz shared that she will be going as a delegate to the National Convention in   Lexington, KY. She shared a flyer about the gifts of love to be collected and also a flyer about our District Retreat, September 24-26,  in Melbourne.  Election of officers was held with the following:  Vice-President of Spiritual Growth-Jan Struck, Vice-President of Mission Service-vacant, Secretary-Norma Miller. The Mary-Martha Guild served a light breakfast and then boxed lunches from Publix for lunch.   Our  fall rally  –  date  to  be     determined –   will be at Grace, Winter Haven.

Links:
https://lwml.org The Lutheran Women's Missionary League (LWML) is an official  auxiliary of The Lutheran Church—Missouri Synod. For over 77 years, the LWML has focused on affirming each woman's relationship with Christ, encouraging and equipping women to live out their Christian lives in active mission ministries and to support global missions.
https://flgalwml.com/ The Florida Georgia District of the LWML provides local opportunities for education, fellowship, and mission service.